My cat,
Weenus
, likes to do funny poses around the house. Luckily, I was able to catch a picture of him in his super model pose. I
photoshopped
it to look like an Calvin Klein ad...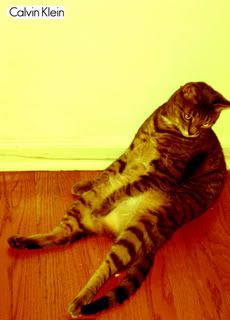 This past week has been really hectic. Lots of trouble concerning moving out, having a sublet, not having a sublet. But when situations change usually a lot of confusion naturally occurs. I have to find an easier way to fit my yoga regiment into my busy lifestyle. A daily practice would really get me feeling great. I practice for a half hour here and there when I can but it's not enough.
This past weekend was my first time to the Brooklyn Botanical Gardens. We went to go see a jazz
performance
with some artists from Oblique Sound. It was a really cool time and the weather held out just enough. The Garden was beautiful and the area really brought things into a new light.
This was my favorite statue in the garden...
Things have definitely been looking up. The weather is constantly beautiful, the nights breezy and the days delightful. My retreat is in 12 days! And the apartment search is actually going well for once. I have been going on really great interviews for a new job... I finally found a feeling ... the feeling that it will all work out.
Here is my picture of the week.
It is a co-worker of mine, who goes by the name of
Lustig
, walking down Northern Blvd. I am not sure why I like the picture entirely. I like the way Northern Blvd is captured with a sunny day. Also, I have always enjoyed candid pictures of people in motion..even if it is from behind.