The weather these past few days have been so beautiful. I haven't really gotten much of a chance to experience it or go out to a park and go jogging... but here and there I do try to breathe it in.
I'm going to head into work a bit early today so that I could leave early and catch the opening day of Pirates of the
Caribbean
3!
... Liz wants to see it for her birthday.
Many people from work at in Italy at the moment and I am insanely jealous. Italy is on my top 5 places I'd need to go list. It has all of the most famous works of art ever and the food is amazing as well. I think I will have to move it up on my list when my co-workers come back with their pictures.
Yesterday I picked Joe up from the
Kew
Gardens E & F subway stop on his way home from work. I got a chance to look around the neighborhood a bit and see whats what. I really enjoy certain areas of
Kew
Gardens.
What I really enjoy is this statue that you see right before you exit/enter the E & F.
And of course when you go down
Lefferts
, one of the best places in all of NYC if you ask me...
Which should have no competition with this other place located directly across the street..
... I don't see a line out of that door, do you?
I'm so happy that I have new clothes for the spring time. Joe's mom got me the most amazing dresses yesterday. One fits nice and snug and the other will fit once I stop eating Dani's Pizza. I got a new skirt and some tops when I met up with my sister the other day in Glen Oaks.
She is wearing my sunglasses here because I got new ones... She is started to look really cool and 16
ish
. :)
I have been spending a lot of time on
Facebook
reconnecting with people who were in the Bahamas with me for
TTC
. Even though I had left early, everybody remembers me and seem happy to hear from me. I joined the yahoo group that people are posting their pictures from the
TTC
on and since I didn't have my camera there, these pictures are
awesome
to see.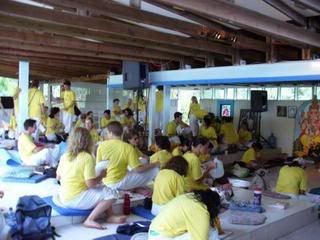 The girl that looks like she is dying in the bottom front of this photo must be me. I had a lot of pain in my back and this must be how I looked constantly! This photo was taken in the temple during a class.
There is my karma yoga team, probably after I had left the ashram being that I'm not in the photo.
I found this photo of my friend Scott pretending to be pregnant for teaching pregnant yoga!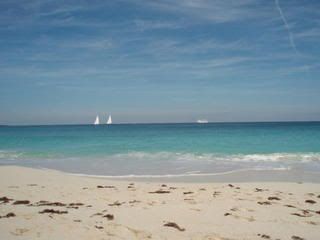 Less than a month and I am there!!