Last night the
Mets
lost to the Yankees for the final game of the Subway Series, however the
Mets
won the previous two games to them, meaning they won the series! Of course I got to go to the game they lost. I had a blast anyway... eating junk food and cheering for the
Mets
while they lose, its almost like tradition. Our seats were awesome and it took us only about ten minutes to get there by the
LIRR
.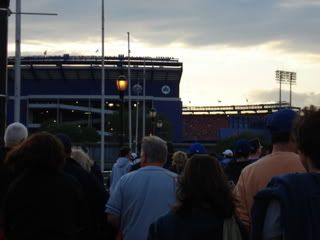 Shea was sold out and so was the

LIRR

. It was so crowded walking to Shea from the train.

The view from our seats was pretty awesome, and the night was beautiful.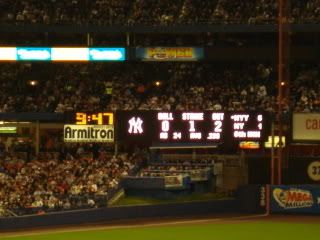 @9:47PM the score was really bad....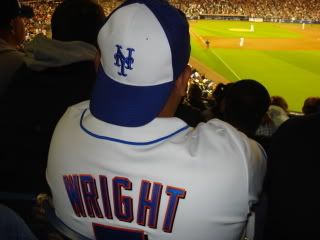 An upset

Mets

fan looks on...

Endy

Chavez is my favorite player on the

Mets

right now... not typically but his style of base running and hitting are completely

underrated

. And don't forget he can go down in history for one of the most amazing post season catches 2006.

The

Mets

lost 6-2 with a last minute homer that brought a smile to all of the crying

Mets

fans.

Rewind to Saturday night... Sean from The Music Zoo had a pretty wild house party. It was a lot of fun, people were dancing, drinking way too much, and having a good time. We got to the party kinda late, around 2

ishAM

after going to South4

th

in

Williamsburg

to see the weekly art show. We went with Nicole and Mark, officially being the Zoo crowd. The night went on til about 7AM for me when I finally fell asleep on the couch in my living room. Sort of reminded me of being in

highschool

again except not getting into trouble for anything.

I am not looking

forward

to working this week....
Am I in the Bahamas yet?